The Best Brake Calipers For High-Performance Cars and General-Purpose Ones
As a part of the brake system, they play a very important role. A corrupted caliper will annoy with unusual wear of brake pad. Containing this article the information on how to check and manage a problem with brake calipers and suggested products there are some of the best ones on the market
Do the brakes on your car feel weak and spongy, or just don't grip up as smooth as they used to? Assuming you have already replaced usual wear-and-tear items, such as pads and rotors, the problem might be worn brake calipers. Many car owners tend to forget about them, mostly because these components can last long while requiring almost no maintenance. Still, even the most robust brake caliper will eventually wear out, at which point you'll have to replace it. Or you might be looking into upgrading brakes on your car, which usually includes fitting bigger and more capable calipers. In both cases, you will have to go through a range of different products and find the most suitable one. To make this easier, we'll go through a selection of several brake calipers and find out how to choose between them.
Remanufactured automotive products often don't enjoy a good reputation and there is a good reason for that. They are usually brought back to life by cutting corners, which impacts their performance and shortens their lifespan. However, this is certainly not the case with Callahan remanufactured products. This American manufacturer brand is known for making quality remanufactured products that regularly pass the test of time. Out of a variety of rebuilt parts this company makes, the CCK11540 brake caliper assembly is one of the best sellers.
The rebuilt front caliper assembly in question is only compatible with all 03-04 Jeep Grand Cherokees and some 99-02 models. Remanufactured with the highest possible standards, these calipers will provide an improved braking capability while keeping the costs down. As an additional upside, these calipers are not prone to wrapping the rotors, which is something OEM ones do regularly. And with brand new hardware fitted during the remanufacturing process, they are as good as a set of new ones. The list of strong points doesn't stop there, as their design ensures bolt-on fitment and eliminates the need for modifications. Lastly, it is necessary to mention that these calipers come with a year-long warranty and an affordable price tag.
Despite the long array of features, the remanufactured brake calipers have one common complaint. In most cases, they will develop a layer of surface rust, which can be attributed to the lack of protective coating. Other than that, these are among the best brake calipers on the market, which is evident by the long list of great reviews. They are sure to provide your old Grand Cherokee with ample stopping power at a slight push of the brake pedal.
Performance brake calipers are a must-have upgrade among automotive enthusiasts, although not all of them can live up with corresponding costs. There are, however, several alternatives that offer competitive performance at a more affordable price, such as the ones from Wilwood. This set of calipers will look as sporty as those from Brembo while providing adequate braking power at the same time. Unfamiliar to the general audience as it may be, this company has been in business for the past several decades. Being one of the market leaders in the country, Wilwood has a vast variety of brake components in its arsenal. And among them, their universal front brake calipers that come with a corresponding pad kit are the most popular options.
Finding the right set of brake calipers can be a hassle, especially when dealing with rare or older cars. Wilwood's universal brake calipers are a great resort in such situations since owners can retrofit them to all sorts of vehicles. The most important upside is the abundance of stopping power, thanks to dual pistons in each of the calipers. And despite being very light, they are still capable of handling any stress that comes in their way. The red finishing provides a sporty appeal and prevents surface rust which is a common issue in bare metal calipers. In the end, many other brands offer a balanced blend of performance and functionality. But rarely who can offer it at such a competitive price as Wilwood's 140-13029-R brake calipers & pad kit.
As mentioned earlier, this is a universal brake caliper set, so it is a good idea to verify its fitment before placing an order. They also require some adaptation during installation, which may call for some tools and manufacturing skills. And being the budget calipers, they tend to overheat when driving on the limit for a longer time. Still, using a performance DOT-5 fluid would certainly alleviate this issue.
Most automotive enthusiasts, both here in the US and around the world, are quite familiar with the ACDelco brand. This GM-owned manufacturer offers a variety of new auto parts and has a good reputation for remanufacturing many of them. During a Century-long history, ACDelco has established itself as a trustworthy brand, whose product range seems to cover all areas. With that said, it is easy to assume that their remanufactured brake calipers will be among the most popular products on the market.
The 18FR1379 rebuilt brake calipers, which fit many of GM's trucks and SUVs, are of the best-selling products ACDelco offers. Tried & tested and thus have proven their mettle. Ranked as Amazon's Choice in automotive replacement calipers, these calipers have proven their reliability in all sorts of real-life conditions. In addition, the package in which they arrive includes all the hardware necessary for an easy and trouble-free installation. As with many other ACDelco products, these calipers are precisely machined and recalibrated to ensure optimum and balanced performance. This allows drivers to bring their heavy trucks to a stop quite swiftly and without any hiccups or delays. On top of that, these calipers will allow the owner to fit any brake pads they like, making them even more practical.
As with most other remanufactured brake calipers, these from ACDelco also have shortcomings that potential buyers should be aware of. Because they are not new by any standard, it is quite common to see rust and corrosion on the caliper body. This is only a cosmetic issue that will not affect their performance, although it can be a deal-breaker for some. Nevertheless, applying a layer of paint or powder coat to the outer side of the caliper will help solve this problem.
So, How Do Brake Calipers Work?
Despite the differences in their vehicle lineups, most car manufacturers use brake systems that work on a similar principle. At one side, there is a brake rotor that sits between the wheel hub and rim, spinning together with them. On the stationary end of the hub, there is a brake caliper, which holds a pair of friction pads. When pressing the brake pedal in their cars, drivers push the brake fluid from the main cylinder towards each of the calipers. This causes them to press the pads against the rotor that spins between them, forcing them to slow down. The resulting friction that makes this possible also creates extra heat and results in gradual wear.
From a construction standpoint, the brake caliper itself is a fairly simple component with only a few moving parts. The simplest way to describe it would be by comparing it with a hydraulic jack that has been shaped oddly. For a start, there is a cast-iron housing with a shape similar to a jaw, which wraps around the caliper. Inside it, there are one or more pistons, which move outwards when the driver presses the brake pedal. These pistons push the pads and squeeze them against the rotor, creating friction that slows it down. Lastly, there is a set of seals and rubber boots that keep dirt and moisture away from moving parts.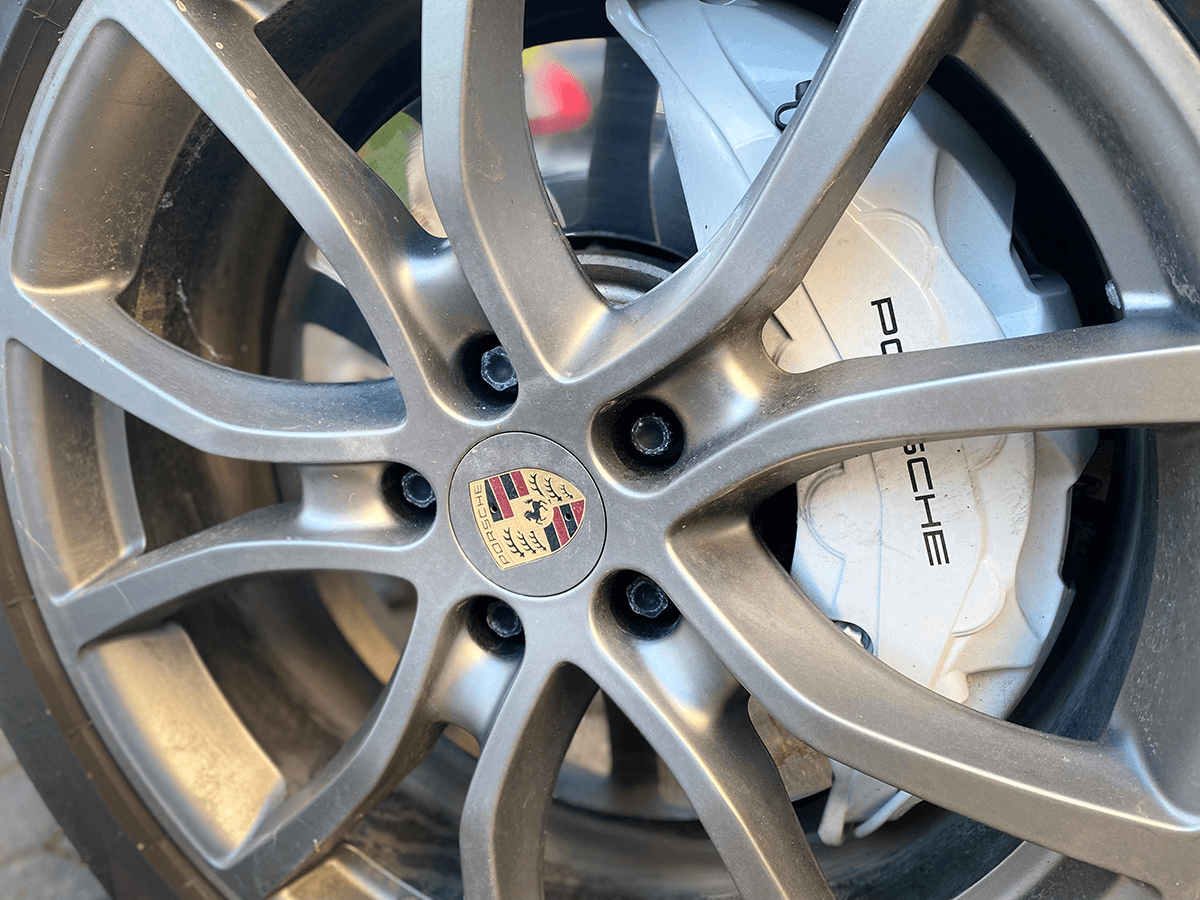 And, Why Do Brake Calipers Fail?
Being such a simple assembly, the brake caliper is quite robust and has only a few potential weak spots. On the outside, most calipers will have no paint on them whatsoever, meaning the exposed metal will quickly start to rust. Still, this is no more than a cosmetic issue, as the corrosion only affects the outer skin of the caliper. The situation is, however, a bit different with seals and rubber boots that protect various moving parts. As time goes by, they may become fragile and break apart, allowing dirt and water into the brake caliper assembly. When that happens, components inside the caliper will start to corrode, which will eventually jam them in their positions. This will prevent the caliper from pressing the pad against the rotor sufficiently, which reduces vehicles' braking capability.
See also: How To Change Brake Pads By Yourself?
The corrosion process that is happening inside the caliper is, however, not something that drivers may notice in its initial phase. This is because of the shape of the caliper and its position behind the rim, which makes it difficult to see. And even when the rust begins to build up, it will still not prevent internal caliper components from moving. Because of that, most drivers won't notice anything until the corrosion becomes so severe that it jams the piston inside the caliper. By that time, the brake caliper may already be damaged to the extent where any repairs are not possible. The only way to avoid this is by thoroughly checking all rubber parts for damage when replacing brake pads.
There are many car components whose lifespans and service intervals are predictable, although brake calipers are not one of them. Instead, things like harsh conditions or unfavorable driving habits are more significant here than miles or years that passed by. Among various factors, road salt and dirt in combination with extreme ambient temperatures are those that are the most damaging. In addition, braking hard for a longer period could cause the caliper to overheat, which will excessively wear its components. All of these things can damage the brake caliper and make it last significantly shorter.
Because of their simple and durable construction, brake calipers are not as prone to wear as some other car components. Instead, they may become jammed as a result of internal corrosion, which occurs if moisture gets in through broken seals. As a result, the caliper will not operate smoothly and may even lose its braking capability. If that happens, drivers may notice the vehicle is pulling to one side or produces loud knocks when pressing the brake. And with one caliper not doing its job, it will take more space to stop the vehicle.
In most cases, drivers that are replacing brake calipers for the first time in their lives are in for a surprise. Despite their simple construction, new brake calipers will usually come with a hefty price tag. This can create a significant impact on the driver's wallet and even make the repair of older cars financially unfeasible. Luckily for most of them, there is a more affordable alternative in the form of remanufactured brake calipers. They offer performance and quality that is comparable to new OEM products at a fraction of a price. What makes this possible is the remanufacturing process itself, during which components that are not prone to wear get reused. Still, it is important to select calipers from reputable manufacturers to avoid build quality issues.
The Last Words
As we have explained here, brake calipers are one of the most important components in every car. They sit inside each wheel, where they push brake pads against the moving rotor when the driver presses the brake pedal. Although they are not a wear-and-tear item, things like harsh conditions or unfavorable driving habits can cause them irreversible damage. And if this happens to your car, you can fix it by replacing worn brake calipers with new or remanufactured ones.
We do an efforts to find, research and recommend the best products. So, we may receive commissions from purchases that you make after following the links in our product reviews.