How does your engine bay look? If you've never bothered to clean under the hood of your car, it might look a little nasty under there. It's understandable that we don't pay much attention to keeping our engines clean since they're rarely seen by anyone but ourselves, but having a clean engine has many benefits that make putting some effort into keeping it clean worthwhile. The best way to do that is to use an engine degreaser that is specially formulated to clean your engine safely and effectively.
If you are looking for a top notch efficient cleaning and degreasing product, then Aero Chemicals would be the great choice. Although, it is popularly known as the best choice for cleaning airplanes, it is also perfect for cleaning a wide variety of surfaces. This multipurpose degreaser is easy and excellent for use on your aircraft bellies, boat, car, RV, motorcycle engine exhausts, landing gear, machineries, tires and even household floors, tools and equipment. It is super tough on grease, stains, dirt, wax, oil and all hard surfaces such as wood, glass, rubber and aluminum.
All you need to do is spray on the desired surface and then wipe it off before it dries with a dry towel. It leaves a protective coating for all surfaces including older porous paints and gel coat. Apart from its amazing cleaning feature, it is totally safe to use and environmentally friendly.
The signature series orange degreaser is a powerful all-natural cleaning product that cleans all grease, oils, grimes and dirt from your vehicles. It is specifically designed for your vehicle's use so, you don't have to worry about your tough, greasy car engine or your dirty tools, cars, trucks, motorcycle, or even boat. If you need a multipurpose premium cleaning option to replace buying detergents, you can get the Chemical guys signature series orange degreaser. It is remarkably designed for getting rid of grimes, dirt, oil and grease from any surface, leaving it spotless, sparkly and shiny.
You can just add a little to your water, dip a mop or cloth in it and clean your dirty surfaces. You can clean your car with this amazing degreaser. Its tough citrus extract is very versatile, highly concentrated and can break down even the toughest grease stains on your machinery, tools, engines and garage floors.
Just like the name, this industrial strength cleaner and degreaser is powerful and tough on stains and dirt. Not only does it wipe the toughest stains, it also has a wide range of industrial applications. It is non-flammable, phosphate free, non-abrasive and bio-degradable. In just a matter of seconds, Purple Power removes the stains and grease leaving your surfaces looking brand new. You just need to spray it on the surface that needs cleaning and let it do the work.
It is highly effective and very easy to use on various surfaces in the home, farm, marine even for your cars. It has an awesome value in price and comes at a low cost which makes it popularly sought after in the market.
If you are looking for an industrial cleaner that would completely get rid of all dirt and grime off your industrial surfaces then, this product is what need. This product is fascinating in color and appearance and it is unlike most greasing products which are green in color. Simple Green is both color and fragrance free so, you can wipe off your surfaces and leave it sparkling clean.
It is very strong, versatile and can also be used to clean off lubricants, oil and grime from household surfaces. Asides from being a multipurpose and highly concentrated degreaser, it is safe enough to use for washing and cleaning. You can dilute it with water, clean your surfaces with it and then rinse it off afterwards. It is highly effective and helps to maintain your machineries, tools, metal equipment and engines.
This product is popularly known for its fast action and unique herbal fragrance. Meguiar's detailer super degreaser is easy to use and breaks down the toughest grease and stains. It is a high power degreasing action that deals with the toughest grease. It has a very pleasant herbal fragrance and it is environmentally friendly. One of its amazing features is its rinse-free formula application. With this product, you will not have to bother about scrubbing it off after applying it to your greasy surfaces.
It is mostly used for engines and exterior parts of surfaces. It is a reputable and powerful brand product that has an excellent cleaning performance. This super degreaser prevents white residue marks or any streak from your cleaned surfaces. For a pleasant work environment, you just need to spray this super degreaser and rinse it off afterwards. It will keep your surfaces looking sparkly and shiny.
The name oil eater is not as aggressive as it sounds although, it is very tough on stains, grease and dirt. It is actually an amazingly gentle product. Choosing the perfect degreaser that would effectively dissolve the oils and grease on engines, pieces of machinery and some household surfaces such as the floors, tools, tiles, bathtub, carpets is not so easy. But, with the Oil Eater original cleaner and degreaser, you won't have to worry about keeping your surfaces clean and grease-free.
It cleans a wide range of materials, dissolves all kinds oils, grease and it does not contain acids, petroleum or abrasive solvents. Being a remarkably versatile product, it is approved by the USDA to clean non-food surfaces. It is safe, easy to use and biodegradable. It is very concentrated and so, you can dilute however needed.
This product is specially designed for cycles under the hood of any vehicle. It can be used for cleaning cars, truck engines, marine crafts, snowmobiles including scooters and lawn equipment. Apart from it being safe on all cycle surfaces, it also provides excellent cycle care. This Total Cycle Cleaner can be used to clean every nook and cranny of your motorcycle or other cycle surfaces such as rubber, plastic, paint and alloy.
All you need to do is easily spray it on the surface that needs to be cleaned and then, rinse off the product. Total Cycle Cleaner totally removes the grimes and dirt from any surface that you apply it on. It is biodegradable, PH controlled, non-acid and contains corrosion inhibitors. This product restores the shine to your surfaces. Simply, give it a good wipe and see your surfaces having a sparkling outlook.
If you value a clean environment, nothing will give you peace of mind more than having the perfect cleaning formula to take care of your cleaning needs. This top notch, highly effective Citrus Engine degreaser is a must-have for your automotive cleaning needs. It is a concentrated degreaser that is capable of destroying every filth, dirt, dust and grime that accumulated on your automotive surfaces and even the interior compartments. It comes with its natural citrus scent and a high level of cleaning power that dissolves even the toughest grease on your car wheels, engine compartments, fiber glass boat compartments, concrete floors even vinyl convertible roofs.
You can spray directly on the desired surface or dilute it with water before use. Simply ensure to rinse it off after application. This Citrus degreasing formula will efficiently lift off the grime and brake dusts from your car, leaving it clean and spotless.
To give your automobile that dazzling look, Super Clean Multi-Surface Degreaser Spray is a must-have. This top-quality product works great on a variety of surfaces keeping them squeaky clean. It is super easy to use and speedily dissolves all grease, oil and tar. It is extremely concentrated and has a high cleaning power. If you have got the grease, grimes, filth or dirty surfaces that needs cleaning, this strong multipurpose cleaner takes care of it.
Although, it is popularly recommended for cleaning grills still, it doesn't matter the type of stain or mess on your surfaces because Super Clean Multi-Surface Degreaser is up to the task. It comes with a spray head for easy use and it offers great value for money. It is one of the strongest water-based solutions and it is eco-friendly. This amazing Super Clean degreaser definitely lives up to its name as it keeps surfaces squeaky clean.
This product is popularly sought after and the most trusted with the capacity to remove the toughest stains. It is an exceptional non-solvent cleaning product that removes wallpaper adhesives, dried latex paint, smoke stains, food and drink stains, grease, oil, marker stains and tar. Krud Kutter does a fantastic job getting rid of all kinds of grease, grime and dirt. It is completely free from hazardous solvents. It is water-based, biodegradable, completely safe, non-flammable, non-toxic and xylene-free.
It is very easy to use. It is cost-effective and offers great value for money. It is highly concentrated and removes a lot of contaminants from surfaces. If you want instant cleaning action for degreasing your materials, Krud Kutter is your best bet. It will help you maintain and restore the shine on all your materials and surfaces.
If you ever need to clean off your greasy engines then, this Gunk Original Engine degreaser is for you. Your engine is prone to accumulating road grimes, dust, dirt, oils and this product boasts of a fast action engine degreaser. You can spray it on your engine, wait for a few minutes and then remove the hose after application. Whether it is a car, truck, marine craft, tractor power mower, or any other equipment, Gunk Engine degreaser will keep them properly degreased and maintained.
If you have a leaky or hardworking engine then, Gunk Engine degreaser is a must-have. It comes in an easy-to-use Aerosol Can so, you just need to spray it on the desired surface and let it do the work. This product is of a reputable brand and is designed to make your engine last longer, protect it from grease, dirt build-up and leaves it with an attractive shine.
What Is an Engine Degreaser and How Does It Work?
An engine degreaser does exactly what it sounds like; it degreases your engine. Cars get dirty inside and out just by being driven. We clean out exteriors and interiors pretty regularly, but we rarely give any thought to cleaning under the hood. However, this is often the part of the car that gets the dirtiest. An engine degreaser cuts through grease, grime, and other junk that can accelerate the wear and tear of some important parts.
How an engine degreaser works depends on what type of engine degreaser you're using. Some engine degreasers are water-based and need to be diluted before use. Some are ammonia-based like some household cleaners while others are petroleum-based which are particularly good for dissolving grease. Foam-based degreasers are also popular since you can just spray them under your engine bay and hose it down. What they all have in common is that they dissolve the grease on your engine left behind from gas, oil, and other essential lubricants that can leave a mess behind.
Benefits of Using Engine Degreasers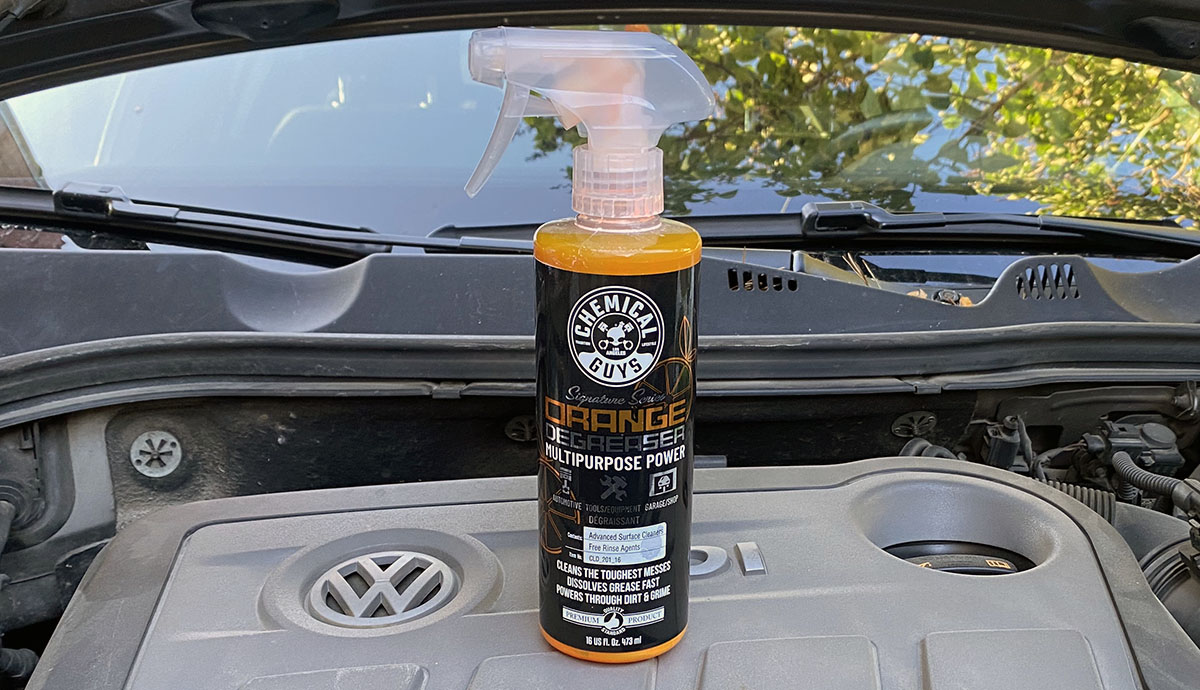 Using an engine degreaser under the hood of your car brings several benefits. One big one is that is just makes it look nicer and cleaner under your hood. The engine bay is generally the area of your car that is cleaned the least which means it can get ugly. Using an engine degreaser to thoroughly clean your engine and the parts of your car surrounding it can make your whole car feel cleaner and newer when you pop the hood and don't see ugly grease everywhere.
See also: The Best Ceramic Coatings for car to shine up your vehicle for a long
On some important components of your engine, excessive grease can lead to faster wear. If you use an engine degreaser regularly, it can make part of your engine last longer. This can help you avoid mechanical problems and save money in the long run.
One benefit of using an engine degreaser that most people don't think about is the pleasant smell that many of them leave behind. Some of the more industrial engine degreasers don't smell good, but most of the engine degreasers you can pick up at your local auto parts store leave behind a pleasant fragrance that can make the inside of your car smell nicer.
Most Important Engine Degreaser Features and Specs
Let's get a little more into the different types of engine degreasers we mentioned earlier.
Water-based degreasers. They can often clean much more than just engines. Some of the most popular ones can also clean paint, plastic, and even car interior materials like carpet, leather, and vinyl. These are great to have in your garage for cleaning a wide variety of different surfaces and materials, including your engine. Many of them are also biodegradable.
Ammonia-based cleaners. Some ammonia-based cleaners are good for use as degreasers in a car interior but aren't quite as strong on engine bays as some alternatives. Ammonia is a key ingredient in some household cleaners like window cleaners, which makes ammonia-based degreasers great for cleaning your car windows and chrome and while it can also be used under the hood, it's not the strongest product for this use.
Foaming sprays. They are popular options for cutting through grease on an engine. The foam sticks to the surface that it's sprayed onto and penetrates baked-on grime. You let the foam sit for as long as the manufacturer recommends (usually around 10-15 minutes) and spray it down with water. Foam engine degreasers usually aren't used for any other purpose.
Petroleum-based. These engine degreasers are effective and popular for industrial and commercial use, but they're not very versatile. They do a great job eating through grease but can have a hard time cleaning dirt off of engines. You generally can't use them for anything other than degreasing an engine.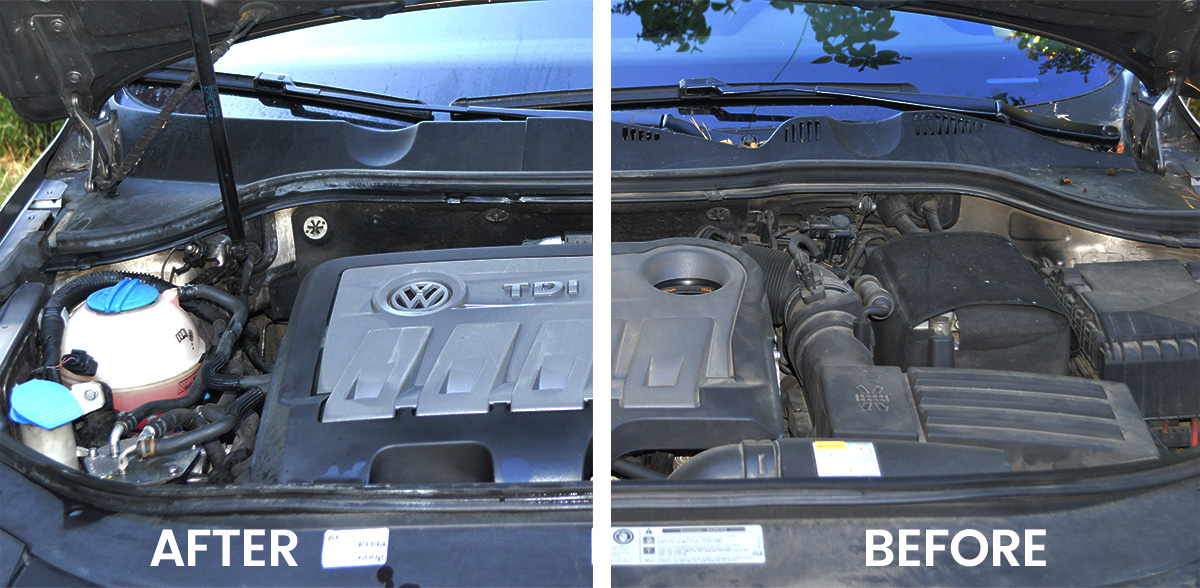 Choosing the Best Engine Degreaser
The most important thing to consider when using an engine degreaser is safety. Some products are gentler on exposed skin than others and it's very important to closely follow the safety precautions outlined by the manufacturer on the label. Read it carefully before using the product. Some might recommend wearing gloves when using it and since you're spraying it and it gets into the air, you may even want to consider using eye protection depending on the product.
See also: 5 Best Multimeters For Work With Cars and Best Car Body Washes
Some engine degreasers don't play well with other surfaces including the paint on your car or your tires. If this is the case with the product you're using, make sure you cover up surfaces that could potentially be harmed as much as you can. If you do get some engine degreaser on the exterior paint of your car, you should wipe it off as soon as you can to prevent fading or streaking.
You should also consider what exactly you're looking for in an engine degreaser. Are you looking for one product that can clean many different surfaces? Do you have some particularly tough grease on your engine that requires a serious degreaser? Are you looking for the best product or the best value? Answering these questions can help you narrow down the perfect engine degreaser for you and your car.
We do an efforts to find, research and recommend the best products. So, we may receive commissions from purchases that you make after following the links in our product reviews.