Floor jacks are one of the essential tools for any car owner prone to tinkering with their vehicle. Choosing between the best floor jacks can get tricky, though, as you might be looking for a specific type, price range, or lift capacity. The perfect jack that suits your and your car's needs is hard to come by, but with any luck, you might just find it on our list.
If the A20018's price tag is a bit off-putting, there's no reason to worry. There's plenty of more affordable jacks out there that can compare in lift capacity, range, and durability. Perhaps the best of these is the Pittsburgh Automotive 3-Ton model.
Range and Strength: we selecting this jack as the best pick!
Something you might notice right away is the low-profile design of this floor jack – it can reach about 0.6 inches lower and 1.6 inches higher, giving it a more versatile reach than a lot of its competition. As a result, buyers are often wooed by this floor jack, especially when taking into account price and durability. Its solid steel construction, while giving it quite a bit of bulk, adds a level of durability that gives buyers much-needed peace of mind. 
The Pittsburgh Automotive is far more dependable than the price tag might suggest – after all, there's a reason it comes second only to our premium choice, the A20018. When it comes to durability and sturdiness, the PA 3-Ton model is absolutely one of the best choices on the market.
You might find the Arcan A20018 at the top of a lot of lists, and for good reason. Its decent lift capacity coupled with reliable durability makes it a solid all-round choice. It pretty much has it all, from safety to stability.
Everything You Need: extra light, durable and simple to use!
The A20018 is made from high-quality aircraft-grade aluminum, which not only solidifies its sturdiness, but also makes it a pretty lightweight choice. That's not to say that it's easy to carry around—at 56 pounds, it's certainly not flimsy. But, as with most floor jacks, it's fairly simple to store and move around the garage due to its wheels.
Appearance aside, this jack has everything when it comes to performance. Its dual pump pistons ensure a quick lift, and the rubber surfaces (on the handle and saddle) ensure a safe, slip-free experience. The rubber contact point also ensures that the jack leaves no lasting marks on your car. Similarly, there are safety measures that prevent overexertion of the jack thanks to the bypass and overload valves. It's safe to say that the A20018 complies with safety standards.
Perhaps the best aspect of this product is its versatility when it comes to its target users. The various safety measures and overall simplicity make the floor jack a great choice for the greenest mechanics. Several buyers remarked that they may never need to replace their Arcan jack, as its reliability and longevity stand the test of time. All in all, users noted a very smooth and easy experience with the jack, outlining care with which the jack handles both lift and drop. The A20018 is a solid choice in all areas, including user-friendliness, lift capacity, and durability, and is a shining example of respected American-made jacks.
If you're still in need of something a bit more affordable, this Big Red model might be the one for you. Right off the bat, it has a lift capacity of 2 tons, so make sure that meets your needs if you're to consider this jack.
We picked this set as the best for it's very affordable budget!
The subheading isn't a slight towards this jack; oftentimes, something that simply does the job is all we need. However, the range of cars and applications for this jack are more limited compared to some of the others on this list; the 2-ton capacity and minimum lift height of 5.25" outline the types of cars this model would be suitable for. If yours happens to fall into this bracket, though, you're in luck.
This jack comes with two jack stands as well, for optimal safety procedures. In most cases, you want one or more stands to secure your car beyond doubt. Thus, this product is truly a budget-friendly choice, as you get a fairly solid jack and two stands at an affordable price. Users were generally pleased with this product, and while few were blown away, the vast majority of buyers were satisfied with this model, citing ease of use and reliable jack stands.
If you're looking for a more simplistic and lightweight option, Big Red's scissor jack is about as simple as it gets. At a weight of under 8 pounds, this is easily one of the most portable floor jacks on our list.
Nothing extra: you getting only the device to lift a small car.
To put it simply, this is the ultimate budget choice for those that know their way around car jacks. If anything, as Big Red suggests, this model could be a "rugged replacement" or a supplementary jack in time of need. Its wide base gives it stability and much-needed support, while the heavy-duty steel constructions ensures it can handle up to 1.5 tons. If you need something simple or want to have an extra jack on hand, this scissor jack is one of the best in that category. At its price, it's almost worth getting as a safety measure, and worst-case you can rely on the (limited) 1 year warranty to get your money back.
Our second Arcan entry in this list is similar to the Pittsburgh Automotive model, with its low profile and user-friendly nature. However, unlike its counterpart, it has a lift load of 2 tons, and has a low height of 3.5 inches (as opposed to the PA's 3.125 inches).
Easy lifting: very good for infrequent use because of higher weight.
One thing's for certain with the Arcan 2T Low Profile model: it has everything you need as a beginner. As the name suggests, it boasts a quick and easy rise, and is just as safe as its A20018 sister model. The dual pump pistons raise the floor jack saddle quickly and safely, and the rubber handle and contact surface allow for safe lifting at every step. Unlike the A20018, it's primarily made of heavy-duty steel, so it sacrifices lightweightness for durability. All in all, it's essentially an "A20018-lite" in terms of features, as it boasts the same safety features but lacks in weight capacity. However, it makes up for the latter with its versatile lift range, and is a solid purchase for anyone looking for the easiest lifting experience.
The Pro-Lift F-767 is another low profile option, and leans towards the more affordable range. It is fairly maneuverable and lightweight, which might come as a surprise as it's made of heavy-duty steel.
We discovered, that this one is a very good solution for its cost.
If you're in need of a simple low profile jack, the F-767 is certainly one to consider. It has a built-in safety valve that ensures the jack doesn't get overloaded. While it is a solid budget option, it's more prone to issues than high-end floor jacks (like the Arcans). Specifically, there are several complaints regarding the leaking of hydraulic fluid, either after a few uses or right out of the box. This detail aside, the jack is generally well-received and can handle up to 2 tons—this covers most personal cars, but might not be suited for bigger vehicles like SUVs. In addition, if you're looking for a high max lift, you might be better off with other jacks; the F-767 goes up to 14 inches, compared to Pittsburgh Automotive's (for example) 19.75 inches. If you're on a budget and in need of a low profile jack, though, it's worth considering.
The Blackhawk B6350 is our final entry, and it's a sound one at that. It's quite heavy-duty in its construction, offering an impressive 3.5 tons of lift. As expected, its durable steel construction makes it quite a bulky choice.
We discovered, that this is a heavy-duty floor jack suitable even for auto-services.
This floor jack trades lift range for pure power; at a minimum height of 5.5 inches, it's one of the more high profile choices on the market. Then again, if you need a jack that can lift 3.5 tons, chances are your car has a sizable clearance. To put it simply, the Blackhawk is the choice for those that think the other jacks on this list just aren't enough. It rivals the best jacks when it comes to sturdiness and longevity, and could possibly be the only floor jack you'll ever use in your lifetime. However, you might need some prior knowledge of how floor jacks work for an optimal experience with this model; buyers often cited the instructions as confusing for beginners.
This hydraulic floor jack is perfect for those who want to lift their passenger cars or vans with ease and safety. The low 3.15in. minimum height makes it easy to slide under the vehicle, while the quick-lift pedal allows you to lift the vehicle quickly and safely. The built-in safety overload valve ensures that you don't exceed the weight limit of the jack, while the sturdy high-strength steel frame provides stability and durability. The polyurethane wheels reduce noise and make it easy to move the jack around your garage or workshop. The manual "dead man's release" ensures that the jack doesn't drop suddenly, while the snazzy blue paint job adds a touch of style to your workspace.
We evaluate this jack as highly-precise, robust, and well-capable to operate with very low-clearance cars.
With a warranty of 3 years on the pump and cylinder and 10 years for everything else, this hydraulic floor jack is an excellent investment for anyone who wants to work on their vehicle at home.
Main Types of the Car Jacks
There are a couple types of car jacks, a few of which weren't fully covered in our list. First, there's the clear differentiation between trolley jacks and scissor jacks.
See also: Best All Season Tires (12 Tires Review & Buyer's Guide)
Trolley jacks (otherwise known as rolling hydraulic floor jacks) make up the majority of our picks, with only the Torin Big Red Scissor Jack being an exception. Essentially, the word "trolley" in the name should suggest the kind of jack it is; one side has wheels to allow you to slide it under your car with ease. You can then pump the jack up via a handle that cranks the saddle (i.e. the part of the jack that makes contact with the car) until it's at the desired height.
Scissor jacks look vastly different, but ultimately lift your vehicle using a similar method. You place the diamond-shaped scissor jack under your car and incrementally crank it with a thin key-like tool. In the end, both jacks accomplish the same goal; you lift your car by hand-cranking the jack until you can place appropriately weighted jack stands for support. In the end, it's ultimately up to personal preference, but trolley jacks are generally more user-friendly and pricier.
Electric jacks is a whole different category. They are even more user-friendly and typically pricier, as it does all the work for you to the desired accuracy. These can come in a few different types as well, mostly as scissor jacks or tongue jacks. The main appeal of an electric scissor jack is the fact that most allow you to hand crank as well.
Tongue jacks are pencil-shaped and straightforward jacks in their design; you put it under your car, and it extends upward to your chosen height. In the end, it's again up to personal preference.
Car Floor Jacks — Buyer's Guide
There are a few very important factors to consider before going out to buy yourself a floor jack. First, and perhaps the obvious choice, is whether or not you want a specific type of jack. Perhaps you're more concerned about safety and ease of use and would go for a premium trolley jack, or maybe you're more savvy in mechanics and can afford to save some money.
Whichever type you choose, it's important to consider durability. Typically, it's a safe bet that a floor jack that boasts heavy-duty steel construction and offers safety measures (such as overload protection) will last you a long time. In this case, it's always good to check long-term customer reviews beforehand to get a general idea for how long this jack could realistically last you.
Make sure that you know the exact weight(s) of the vehicle(s) you're looking to use the floor jack for. You could get this by locating a sticker in the driver's door jamb, containing GVW (Gross Vehicle Weight). This information is also available online or in the owner's manual. Most manufacturers also provide the weight split by front and rear axles weights. Stemming from the fact a lifted vehicle will only be jacked from one corner or axle, pops that you will need a jack with a tonnage estimate of around 75-100% of your vehicle's total weight. It's always good to be extra safe just in case, so if your car is 1.9 tons (for example), perhaps a 2-ton lift capacity is quite enough for frequent use. Most importantly, though, always get a floor jack and respective jack stands that can handle the weight of your vehicle; this should go without saying, but a jack's lift capacity should be your primary consideration.
Similarly, you should know your car's clearance, i.e. the distance between the underside of your car and the ground. If you have a lower-profile vehicle, your search should start from the low profile jacks. Measure the distance carefully and pay close attention to the lift ranges for the floor jacks in consideration. This is important for any accompanying jack stands as well, as their heights need to fall into the desired range as well.
There are other accessories that could make your lifting experience easier and safer, such as chocks and a cross wrench. However, when it comes to floor jacks, the above considerations should come before any personal preference comes into play.
How to Use a Floor Jack and Jack Stands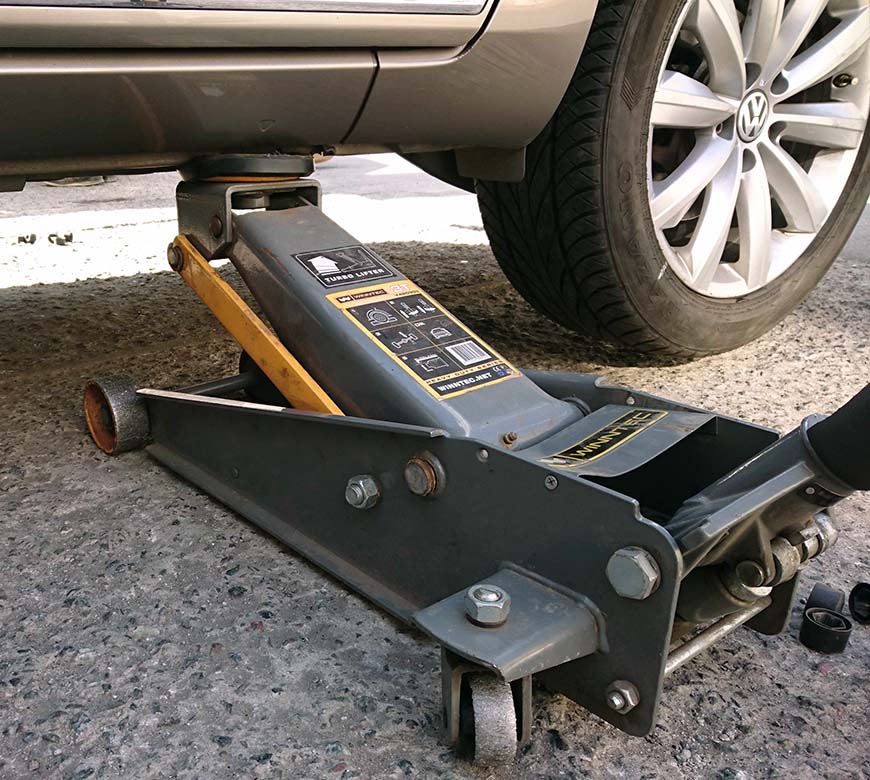 Once you've picked out your floor jack, it is of course time to put it to use. It could be a nerve-wracking experience at first, but it's not too complicated on paper. Your main goals can be outlined in three steps: place your jack under a suitable, flat surface under your car, raise it to a safe and allowable level, and carefully place your jack stands under similarly suitable surfaces. The main factors here are precision and care.
For the more common floor jacks, i.e. trolley jacks, your first step should be sliding it under a carefully chosen surface. Then, lift the jack by pumping the handle until it makes contact with the underside of the car. Make sure the saddle's contact is sound, and that it's unlikely you would run into any problems while lifting. Then, slowly pump your jack to the desired (or maximum) height — if it seems to give out on you, it probably means you've reached the limit. You might notice the floor jack slides forward as it lifts the car. This is completely normal and is important for proper balance.
Note: Always direct the lifting force to special points that each car has (they are visible in the photo).
Jack stands are key in the whole process—you should ideally only be using your floor jack to lift and lower your vehicle, and jack stands to do the supporting while you work. The perfect stands for your jack should not go over your maximum lift height; if you think about it, you want to keep the lowering process to a minimum to ensure safe stand support. So, if your floor jack goes up to 15 inches, it might be a good idea to get stands that fit into the 14-inch range. Essentially, you want them to be tall enough for your needs, but short enough to be compatible with your floor jack. Don't be afraid to use multiple stands. If you're only working on the one side of your car, you could get by with just two stands (one on either side); if you need the entire car raised, you'll need to have at least four (for each corner). Remember, safety is paramount, so make sure you have suitable locations for your jack and your stands.
For scissor models, place your jack along the "rim" of your car's underside; the dents at the top of the jack should indicate the rough shape you're looking for. Crank from there until you have enough lift to accomplish your task, whether it's changing a tire or placing a jack stand underneath. When all is said and done, you can simply crank the scissor jack back into its folded initial position.
As for trolley jacks, lowering them is even easier. Once you're done with the floor jack itself, pull the handle outward until you feel a shift (some floor jacks might not need this step), and turn the handle clockwise or counter-clockwise (depending on your model) slowly until the saddle begins to lower. Doing this observantly is very important. If you're simply lowering it to leave the support to the jack stands, you could also keep the jack itself slightly raised under your car for emergency support. If you find that releasing the jack feels a bit clunky, you should make sure that your jack is properly lubricated; if your model has Zerk fittings ("grease nipples"), you can feed lubricants through those.
That's about all there is to floor jacks. Remember, it's always best to do these kinds of things with caution. One important thing to keep in mind is to never have your body under a raised car. Be sure that, at most, you're putting your arms under the vehicle to align your jack stands. Of course, if you have a car floor ramp and ample experience with these things, you could breathe a bit easier. Either way, it's absolutely vital to be as safe as you can when it comes to working with floor jacks, be it when picking out a suitable lift capacity or lowering your vehicle.
We do an efforts to find, research and recommend the best products. So, we may receive commissions from purchases that you make after following the links in our product reviews.