Once reserved for high-end luxury vehicles, virtually every model line-up today offers leather upholstery as standard or as an option. With some cars, such as the Bentley Mulsanne, requiring up to 14 individual hides to trim the cabin, demand is beginning to outstrip supply: In fact, Bloomberg reports that 30 percent of all leather produced is now used in car interiors.
This increasing demand coupled to fewer resources is driving prices up, which has seen some producers resorting to splitting the leather in half to achieve a better coverage per hide. Obviously this has an impact on durability, as the thinner material may not last as long as the premium product.
However, unlike leather luggage or apparel, leather used for trimming vehicle interiors has to contend with many adverse conditions that could significantly shorten the upholstery's life, through:
Cracking and peeling as a consequence of getting wet
Staining from spilt liquids
Fading and discoloration under harsh UV- and sunlight
Wear and tear of people moving across the seat surfaces
Abrasion caused by dirt and grit
Thus, to maintain the appearance, suppleness and even the characteristic smell of a leather-trimmed cabin, vehicle owners need to regularly clean and condition all leather surfaces in the car – particularly the seats.
These Chemical Guys products are the best in general. They offer multiple purpose usability and durability at one low price. Consumers can use the conditioner for many things other than car care. They can use it to treat leather clothing and furniture as well. It functions just like a hair conditioner that keeps hair soft and moist to avoid breakage. The leather conditioner moisturizes and revitalizes leather so it maintains its integrity. Another element in the kit, the cleaner, has a neutral pH and targets three leather performance levels; The strength of the leather, its ability to last long, and how it looks. It functions by penetrating into the leather to clean out contaminants.
This kit's design is consumer-based. A lot of users don't like to clean, that's why the kit was fitted with tools to make cleaning so comfortable. For one, the products come in a spray container, so that users only have to spray and clean. They do not leave residue behind, and they do not deteriorate fiber, unlike soap. Leather begins to smell from dirt that stores up in it over prolonged usage. Chemical Guys Leather conditioner alleviates such and rejuvenates the leather, keeping it odorless. Specifically, the cleaner removes contaminants, and then the conditioner nourishes it, helping to prevent ultraviolet damage. The products' design is such that very little quantity can achieve much. Customers have rated the kit 4.6 out of 5, a testament to its quality.
This conditioner is a 16-ounce premium leather conditioner with a lot of history and consumer trust. The company has been around since 1882, and their product achieves a lot in one use. The conditioner cleans, polishes, and protects the leather. It is an excellent product for car care. Vehicle parts like leather seats, door handles, and dashboards, as is common in top of the line car offerings, can be treated with this product. However, beyond use in cars, it can work on many other pieces of equipment and clothing like belts, boots, books, furniture, and any other leather material. Bickmore is excellent for rejuvenation. A remarkable feature is that it is wax-free. Many other cheap alternatives tend to have wax in them, allowing them to give that shiny look on the leather, but this product doesn't have wax. It doesn't leave the leather in a sticky condition, and it is easy to apply.
Bickmore Leather conditioner also helps restore exotic leather products and clothing, like jackets and handbags. It doesn't work like other ones, which tend to darken the leather. Bickmore restores the leather to its original shine and helps to keep it soft. It is important to note that the leather has to be clean before application to obtain the best results, and this application has to be with the hands or with a soft cloth. This product is not ideal for Suede and other harsh surface materials. Once applied, the leather should be allowed to sit until it dries, allowing the conditioner time to absorb into the leather. After the conditioner has been allowed to work, the leather can be buffed to taste—consumers rate this product a 4.7 out of 5.
This product has the best price for value on the market. Leather care is an aircraft-caliber leather conditioner. It restores, protects, and rejuvenates the leather. Leather Care meets up with Boeing's aircraft specification and is a good fit for household use, as well as for cars. The product comes in a spray container and is easy to use. It offers ultraviolet protection for leather materials by providing a coat over them that doesn't attract dirt. Leather care suffices for RVs, boats, trucks, and even for motorcycle leather seats.
The product is a non-hazardous biodegradable product with a pleasant leather smell. Before the application of this conditioner, the leather has to be cleaned with leather soap thoroughly. The leather conditioner can then be sprayed on a soft cloth, and then used for the application. After use, the leather material should be wiped with a wet towel, then a dry towel. This method gives the best result. It has a customer rating of 4.6 out of 5.
This company has existed since 1968 and offered this product for quite an approximate amount of time. The manufacturer claims to have over one million sales and happy customers. Their product's effect is long-lasting as one treatment with it can last for up to six months. It seeps into leather and revitalizes the leather. It moisturizes it and makes it flexible so that the leather can look vibrant. An edge Leather Honey has is that it doesn't need to be re-applied monthly. If used well, consumers can apply it at least twice a year.
It works on all leather products, in vehicles like RVs, trucks, boats, and cars. It restores furniture and leather clothing, like belts, bags, and shoes. The content of the product is not harmful. It has no silicon. The formula repels moisture and should not be used on any type of unfinished leather. It is better for the conditioner to be used with the Leather Honey cleaner. There is an 8-ounce and 16-ounce variant. The difference is clear as day and night when this product is applied. The retail price for the 8-ounce bottle is $16.10, and the 16-ounce bottle is $26.30.
This is an all-in-one treatment product which rejuvenates, shines, softens, and moisturizes the leather. Meguair's conditioning spray helps to avoid cracking due to excessive drying. The formula is not greasy, that way the leather is not left sticky.
The product also offers protection from ultraviolet rays. Since vehicles and humans are all about their day in the sun sometimes, this is much-needed to keep leather lasting for longer. Consumers have rated it 4.7 out of 5 and the price is about $16.
This Bi-functional formula is an all-encompassing leather conditioner. It retails at $29.95 and works to clean stains and marks, thereby leaving the leather in soft condition. Only a little amount is needed. KevianClean cleaner and conditioner functions to replenish dry, rough leather from the inside out, thereby saving it from cracks. KevianClean contains no artificial substances and restores the original leather color. The product also helps remove jean stains, although it may require multiple applications for much heavier stains. However, it is vital to seek professional help when in doubt. This product restores vehicle upholstery, and it restores household furniture and clothing. It is made from natural extracts and contains no silicone or grease. It is biodegradable, so it is safe for general usage. The product should not be used for suede or other types of unfinished leather. Consumers rate it 4.3.
This $16 product is simple to use. One application cleans and revitalizes the leather, unlike other products. Those products have dedicated cleaners and conditioners, and their usage takes extra time and effort to apply. This is a combination product. It cleans and restores the color of faded leather upholstery, furniture, and clothing. The product takes a step further to protect leather from contaminants, like ultraviolet rays, and this improves leather's durability. The product comes with an application pad and has a decent 4.4 consumer rating.
This product is cheap, costing only about $10.39. Its content is about 12.5 ounces, not complicated, and not toxic. Weiman leather cleaner and conditioner, is a double-action product that cleans and revitalizes leather in one application. It not only rejuvenates and restores leather, but it also protects it against ultraviolet rays. It contains some oils and organic extracts. It works on all leather materials like vehicle upholstery, furniture, and clothing.
This product prevents leather from cracking by penetrating the leather and softening it from the inside out, thereby softening and strengthening it. Weiman should be applied to finished leather surfaces only. Consumers rate it 4.5 out of 5, a testament to how much of a decent leather cleaner and conditioner it is.
What Is a Car Leather Conditioner?
While most leather car care products are promoted as leather conditioners, there are actually three elements to this treatment:
Firstly, cleaning the surface
Secondly, nourishing the organic material
Thirdly, protecting the surface
Most car care products, such as Bickmore's premium grade "Bick 4 Leather Conditioner", that restores, polishes and protects all smooth finished leathers, offer a "one treatment" conditioner that includes all three elements in one product.
This is particularly pertinent when conditioning the 'natural Aniline' leather upholsteries found in the luxury segment of the car market.
But are all leathers used in car interiors not the same?
The answer is quite simply: No. As with the automobile, leather upholstery has undergone a significant evolution over time.
NOTE: Know the types of leather used in cars before deciding on the best leather cleaner and conditioner
Unlike the early days, when all leather was natural and uncoated, the majority of leather used in today's cars is 'protected leather', where a pigmented color-coat is protected with a polyurethane/acrylate top-coat specifically designed for automotive-cabin interiors.
In general, automotive leather can be divided into three major groups or types:
Type A = Aniline Leather
Type N = Nubuck Leather
Type P = Pigmented leather
All leather starts out as Type A. On the other hand, if it is 'sanded top-grain' it is classified as Type N (sanded split-hides of this type are classified as Suede), and if it is pigmented and protected with a top-coat, it becomes a Type P.
Debate around cleaning and conditioning of these similar yet significantly different leathers has resulted in a lot of confusion as how to best care for the upholstery: Not too long ago it was standard practice to first clean the leather with soap before conditioning with oils and waxes designed specifically to prevent drying and cracking.
While the latest protected leathers do not require the same level of conditioning as the uncoated natural leather of the past, they do however, still need to be cleaned, conditioned, and protected.
So, with a plethora of products on the market, what features should the consumer look out for when selecting the best leather upholstery cleaner and conditioner?
What To Look For When Buying The Best Leather Conditioner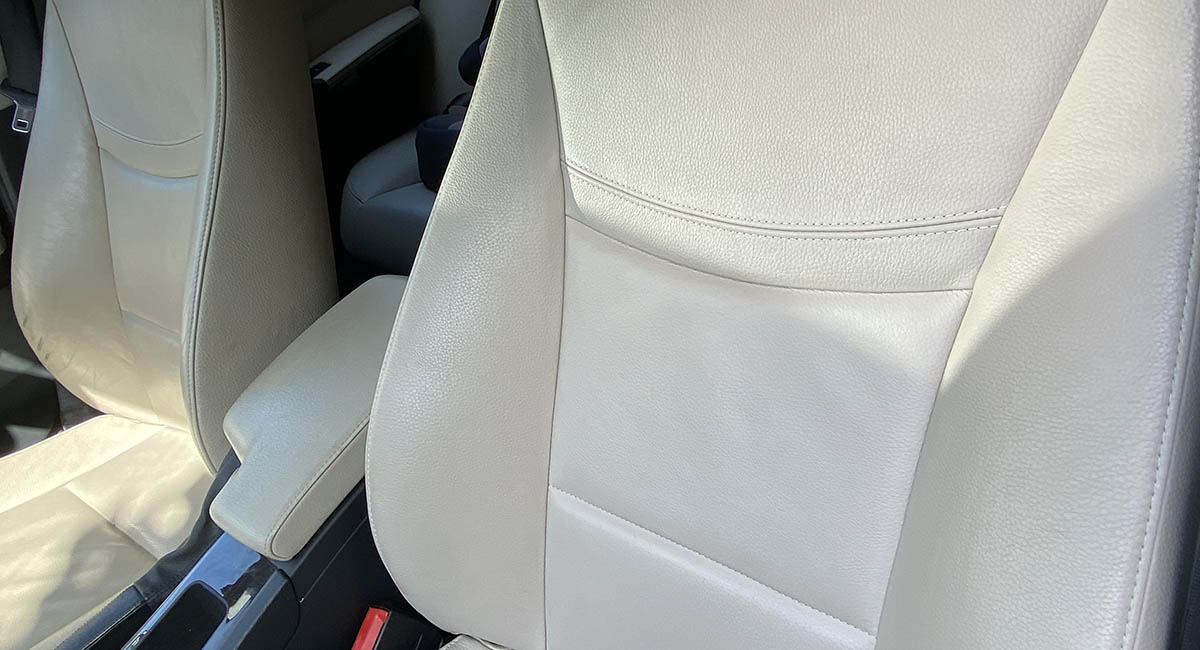 Reading through the brochures of the thousands of companies that supply leather conditioners for cars, it is very easy for prospective buyers to get confused or sidetracked by irrelevant claims, thus this section will highlight some of the most important features that the best conditioners have:
Duration of protection. The best leather conditioners for cars usually indicate how long the treatment is likely to protect the upholstery for – 6 months is the typical duration.
Protect against UV. In climates where vehicles are exposed to harsh sunlight, leather needs to be protected from UV rays to prevent discoloration and fading. Thus, the best leather conditioners, like Aero Cosmetics' best priced "Leather Care" that includes UV protection without any dirt attracting residue in its aircraft grade conditioning, will almost always offer this feature.
Liquid repellant. To prevent staining, or in severe cases, hardening of the leather, the best conditioners are usually hydrophobic and liquid repellant.
Nourish the leather. This is particularly important in Type A and N leathers that do not have a synthetic coat to seal and protect the organic upholstery from drying out. In these cases a good leather conditioner will keep upholstery hydrated and maintain the soft and natural feel.
pH-Balanced cleaning. Irrespective of the type of leather, a neutral or balanced pH product – such as the "Leather Cleaner and Conditioner" kit from Chemical Guys, widely deemed to be the best general cleaner and conditioner – is important in preserving the upholstery. A formula that is either too alkaline or too acidic, can result in:

Crazing and peeling of the leather or protective coating
Loss of suppleness
Discoloration
Loss of strength

Non-Greasy. A greasy residue left behind after cleaning and conditioning will attract and trap dust, dirt, grime, and body sweat in the crevices and pores of the leather. Besides making the material look grubby, dust and grit will act as abrasives and damage the upholstery.
Multi-purpose for use on different materials. With manufacturers often combining different, and even faux, leathers in vehicle interiors it is useful if the conditioner is multi-purpose.
Ease of Application. Leather conditioners are available in spray, wax or liquid form. The best leather conditioners are easy to apply without requiring additional applicators or equipment.
Non-toxic. Although it is always advisable to avoid toxic chemicals in any process, when it comes to conditioning leather this is of particular importance: Close contact with harsh chemicals when seated can result in skin irritation, which in the case of infants and children can have serious consequences.
But, while caring for the upholstery with the best leather conditioner for cars will undoubtedly keep a vehicle's cabin in mint condition, there are times when an owner may wish to restore neglected leather trim to its original glory, but not know how.
Restoring Neglected Car Leather Upholstery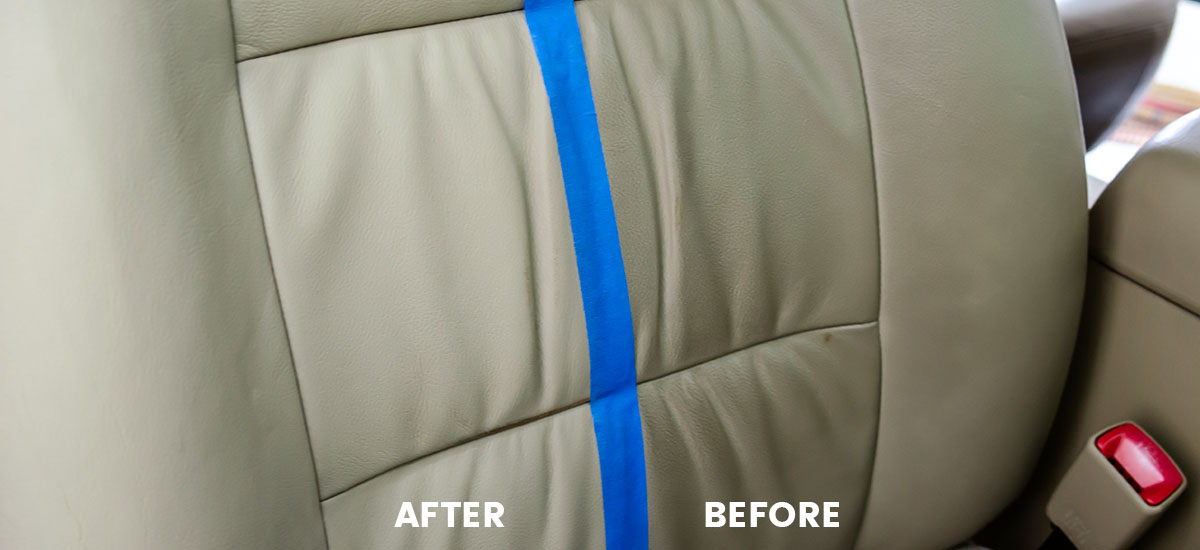 Whether coated or not, natural leather remains an organic material, and as such will deteriorate over time if not correctly cared for.
So what are the most common problems owners encounter, and more importantly how can a car's leather interior be restored to its original condition when things go wrong?
Caring for leather upholstery that has become wet:
To prevent mold it is important to dry the leather as soon as possible by soaking up the water before vacuuming the residual moisture with a wet-dry vacuum – Heat must not be used to dry the wet surface.
Condition the upholstery with a good quality leather conditioner while the leather is still damp.
Correcting leather that has turned white:
While there are many reasons for leather turning white – from deodorant stains to spilt nail varnish – white mold resulting from high humidity levels is probably the most difficult to overcome.
The mold is typically white, or in some instances green, in color with a dusty, speckled appearance.
While this is easily confused with "fatty bloom", which is the result of fats/oils in the leather crystalizing on the surface, restoration for both requires the mold or crystals to be wiped off the surface, with the upholstery then cleaned and conditioned with a suitable leather conditioner.
Restoring cracked or peeling leather:
Cracked leather is typically the result of upholstery getting wet and left untreated, or leather that has not been regularly conditioned – especially when subjected to harsh sunlight.
Derived from animal skins, natural leather needs to be moisturized and conditioned regularly; if not, the leather will eventually crack, and if left untreated will in due course peel.
In the case of Type P leather, it is usually not the leather itself that cracks, but the protective surface coating. This is commonly the consequence of using products that contain solvents and chemicals when cleaning the leather.
Thus it is important to treat wet leather immediately and clean and condition upholstery regularly with products that contain no harsh solvents or chemicals.
Treating sticky leather upholstery:
Sticky leather is typically caused by:
High humidity levels that cause the leather to feel clammy or sticky to the touch.
Although less likely nowadays, incorrect tanning can clog the natural pores in the leather or leave a waxy residue on the surface.
Natural oils and dirt can build up over time, resulting in the surface becoming sticky.
Regular cleaning and conditioning will both remove any tackiness and keep the surface free of sticky buildup.
Getting rid of bad leather odors:
When talking about leather odor it is important that the natural smell exuded by leather not be confused with that of contaminants: Being organic and porous, leather tends to soak up strong odors from cigarette smoke, food, perfume and even mold.
The best remedy for removing obnoxious odors from the interior of a vehicle is to vent the cabin by leaving the windows open for a few hours, and cleaning and conditioning the upholstery on a regular basis.
While there are many "home remedies" involving vinegar or bicarbonate of soda that claim to correct and treat neglected or damaged leather upholstery, these should be approached with extreme caution, as the risk of them irrevocably damaging the leather is high. Before attempting any of these fixes it is best to carry out a trial on an area that is not in open view.
Given the difficulty in selecting the best leather cleaners and conditioners for cars, it is not uncommon for potential buyers to have questions and concerns not addressed by manufacturers of these leather-upholstery conditioners.
We do an efforts to find, research and recommend the best products. So, we may receive commissions from purchases that you make after following the links in our product reviews.