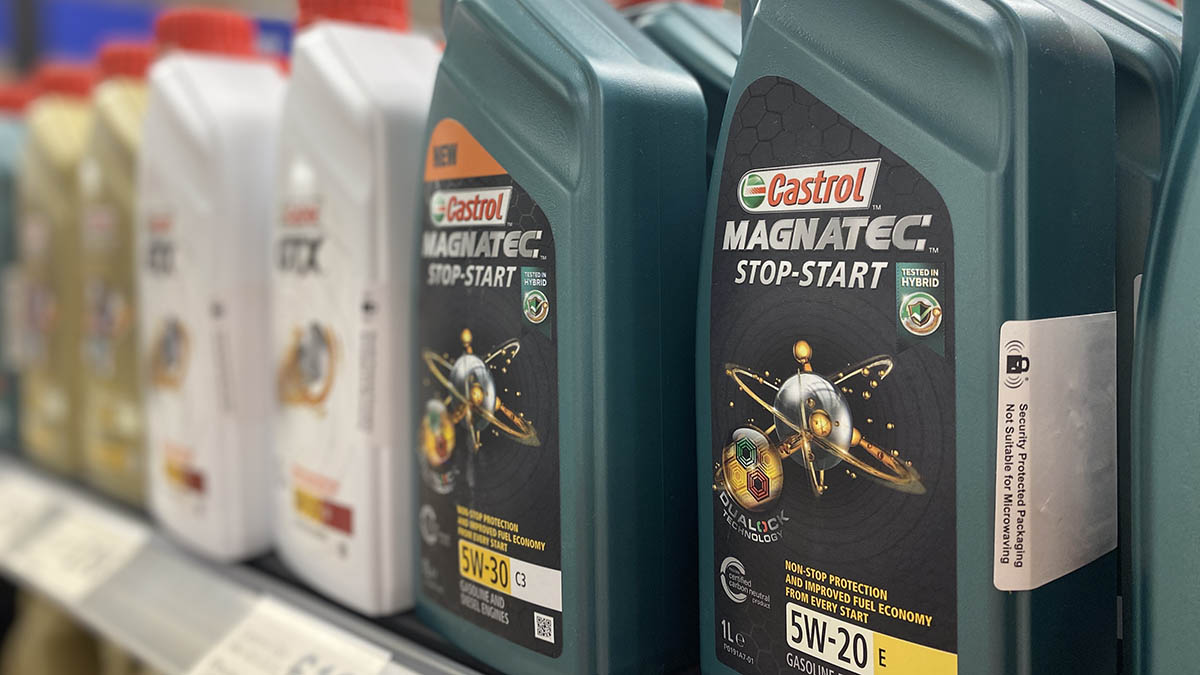 Having the right motor oil is crucial for long-lasting performance in your car. It's the nutrition that keeps your engine ticking reliably and efficiently, so it's important to approach this question with careful consideration. Compatible and effective motor oil can make the difference in how healthy and lively your engine stays with time.
Synthetic oil has by and large replaced conventional oil as the go-to for maximizing performance and engine health. Fully synthetic oils and synthetic blends are great for maintaining top performance and limiting decline, but it's important to choose the best synthetic oil for your engine. We've compiled a variety of oils for you to peruse, and hopefully one of them is the perfect one for your vehicle.
Best Overall Synthetic Motor Oils
Our overall choice for best motor oil is the fully synthetic Valvoline 5W-30. It has everything you need for long-lasting performance, and like the Mobil 1 above, offers great protection in cold weather. This product is absolutely top-shelf in many respects, even down to the design of the jug.
The easy-pour and anti-glug design makes it a very user-friendly choice when it comes to oil changes. According to an IVA wear test, this oil outperforms industry standards by 50% in wear protection. The formula is enhanced with anti-wear additives, reducing engine breakdown. On top of that, the detergents in the oil help fight deposits and sludge, while conditioners prevent and deal with any leakage. All in all, this is a choice that is bound to keep your engine in great condition.
Mobil 1 as a whole is a strong performer in the motor oil market, and is perhaps the most recognizable maker of synthetic oils. This product is no different, and is a great fully synthetic choice for all applications.
The advanced formula is designed to keep your engine as clean as possible, helping prevent any build-up or deposits that can form over time. This ensures the longevity of your engine, and helps maintain consistent performance between oil changes. It also boasts efficient viscosity and lubrication levels to maintain stability and limit any wear. Design-wise, this oil covers every angle, from reduced debris to stable performance.
Another aspect of this oil that makes it appealing in colder weather is its solid low-temperature capabilities. The formula is perfectly suited to perform quick starts and protect the engine in colder conditions, making this a great choice even in the winter. With a 15,000 mile guarantee that seems to be approved by buyers, this Mobil 1 oil is a great all-round choice for long-lasting engine protection. On top of that, despite being a premium option, users typically lauded this oil's value for money.
Rounding off our short list of 5W-30 synthetic oils is the Castrol Edge 03084. It's marginally more affordable than the other choices, but boasts similar performance and focuses on longevity. The tag line for this product is that it protects your engine from debris and wear even in extreme pressure conditions.
All in all, there isn't much to say that hasn't been said about the two oils above; this product ensures clean and reliable performance across the entire drain interval. It's focus on strength ensures that the oil doesn't falter under any driving conditions, while decreasing engine buildup. Overall, the Castrol 03084 is a fantastic choice for those seeking maximum performance and consistency between oil changes.
Best High-Mileage Synthetic Oils
AmazonBasics might come across as an odd choice brand-wise, but this oil is a great choice for new and old engines alike. Its performance is on-par with the top name-brands, and its affordability is certainly a plus. Like the Royal Purple, this oil is made to protect and ensure the smooth operation of engines with 75,000+ miles on them.
The fact that this product is sold under the Amazon brand shouldn't scare you off; in fact, it's a rebrand of an existing, reputable product. As for the oil itself, it reduces wear on the engine by minimizing friction thanks to its protective coating. This promotes better output and ensures optimal fuel efficiency. To sum it up, this oil does everything you'd need a synthetic high-mileage oil to do – it reduces deposits and wear, ensures consistent performance, and helps protect old engines from any further deterioration. One downside, however, is the odd choice for bottle design. The volume markings are on the outside, so it's not easy to tell how much you're pouring or have left since the bottle itself is opaque. Otherwise, though, there isn't much to complain about.
Royal Purple is possibly one of the most underrated brands when it comes to high-quality synthetic oil. The ROY11748, while requiring a bit of an investment, helps your engine maintain peak performance over a whopping 15,000 miles – that kind of longevity alone makes it great value for money.
There is a reason this is one of the best high-mileage oils on the market despite the price. Buyers rate it very highly due to its long-lasting performance, even noting that their start time improved and the engine runs smoother overall. If you have an older engine, this might be a great oil to look at – Royal Purple tailored this oil to protect engines with over 75,000 miles. All in all, this product is a fantastic choice to protect your engine in the long-run without worrying about deposits or compromises in performance.
While a similar Valvoline oil made it as our Best Overall choice for overall motor oils, this one comes in as a safe budget option for high-mileage uses. Once again, this oil is perfectly suited to older engines that have racked up 75,000+ miles. Like its brand counterpart, the efficacy of the oil is nicely complemented by the intuitive and user-friendly bottle – the anti-glug and comfortable pouring spout ensure a mess-free oil change.
Buyers who have had issues with the age of their engine in the past – such as unwanted leaks – noted that this oil helped immensely, even in vehicles with over 200,000 miles. Recommended change intervals are anywhere between 3,000 to 7,500 miles, but ultimately it's a matter of preference and how well the oil works with your driving habits. However, with its attractive price and ability to improve performance in older engines, this oil is great value for money regardless of drain intervals.
Best Diesel Engine Synthetic Oils
Valvoline comes in once again as a best choice, this time in the realm of diesel engines. While it doesn't seem to boast all the user-friendly jug features of its counterparts above, it still offers a fairly solid presentation. Of course, the performance is nothing to scoff at, with buyers namely praising its improvement of their engine's start time regardless of conditions. One driver noted that their truck drove noticeably smoother in warm weather, while not sacrificing start-up time or performance in colder conditions.
This oil is the definition of a silent performer. Not only does the oil seem to help the car run smoother and boast quick start-up, but some added that the engine runs quieter altogether. Notably, cold-weather performance and quietness seem to be one of this product's strong suits. To top it all off, the oil seems to keep fairly well over time, with users often changing it every 7,500 miles with no issue. All in all, the Valvoline Premium Blue Extreme 5W-40 is a great performer for diesel engines.
If you have a diesel engine, some of the above nominees might not be totally suitable to your needs. There are several solid synthetic oils to choose from when it comes to specifically diesel engines, though, starting with the Shell Rotella T6. Its fully synthetic nature adds nicely to its cleaning and protective capabilities, of which it boasts several.
This oil offers great sturdiness and longevity due to its solid heat resistance and wear performance. This oil is tougher to break down as a result, and can stay at a consistent level of performance over a drain interval. In addition, it is very compatible with emissions systems, with the formula helps control any potential blockage or poisoning of the after-treatment components. With all of these design features in mind, it's no surprise that this oil offers a great level of fuel efficiency. The overall presentation was also a point of praise for this oil, on top of its value for money despite the price.
When it comes to affordable diesel engine synthetic oils, this Delo product doesn't disappoint. In fact, it almost seems too good to be true – a premium synthetic blend with long drain intervals for a comparatively lower price is a great offer. It doesn't end there, though, as Delo ensures that this oil is tailored to effectively tackle depositing in diesel engines. Is there a catch?
Right off the bat, this oil comes across as durable, boasting high-quality piston deposit control and protection of the turbocharger. The additives in the oil (namely, detergents and dispersants) help control dirt and protect diesel components. All of these combine to high-quality wear protection overall, with a focus on longevity and smooth run of your engine. To wrap it all up, some buyers noted a newfound smoothness on the road in hotter climates, even across long highway drives. One point of contention, however, is the odd design choice for the container – the handle is on the same side as the spout.
Best High-Performance Synthetic Oils
With oil price in consideration, this Royal Purple oil is our overall best pick in this category. With a focus on wear protection and fuel efficiency, this oil is designed to boost performance and make it last. Like the Valvoline above, this product is formulated with ethanol-containing fuel compatibility in mind. In addition to protecting against engine wear under pressure, this oil ensures the longevity of the catalytic emission system.
By acting as an oil and lubricant at the same time, it adds extra corrosion protection into the mix. Something that makes this a safe buy is the detailed instructions provided by Royal Purple for new and old engines alike. To break it in for a new engine, they recommend racking up 2,000 miles for gasoline engines first (8,000-10,000 for diesel). For older engines, breaking it in gradually with shorter initial drain intervals (3,000-5,000 miles) ensures that the oil breaks down any deposits while not compromising performance. Overall, this is a great choice for both new and old high-performance engines.
This oil is outright marketed as "racing oil", and for good reason. Its performance enhancing capabilities are supported with a formula high in zinc and phosphorus to boost horsepower and reduce wear. In addition, the oil has push-rod and flat tappet compatibility. Generally, this oil is designed for a racetrack, but is a great choice for high-performance vehicles overall.
Its performance is matched by its cleaning capabilities, with an anti-foam system that reduces wear during high engine stress. The benefits of this oil noted by users range across the board: some noticed an improvement in their fuel efficiency, while others noted that it enhanced the performance in their quite old high-performance vehicles. The mileage and overall longevity you get with this oil is reflected in its price-based on reviews, it might be safe to say that 5,000 miles has little to no effect on the oil's performance.
If you're looking to save a bit of money while still providing your engine with a solid synthetic oil, the Castrol Edge line has something for you. Like similar Castrol oils, this one is designed to be sturdy and effective – they even go as far as to boast 20,000-mile drain intervals, which, for such an affordable option, is beyond acceptable. All in all, this option is similar to the Castrol 03084 we looked at above – its primary focus is providing maximum performance in high-pressure conditions.
The longevity claims seem to be supported with excellent reception, with many not finding a single issue after 5,000+ miles with the oil. The focus on durability is certainly reflected in the consistent viscosity levels over time. While this oil does help with fuel economy, deposit prevention, and wear reduction, the main takeaway is probably the durability it provides. No matter the conditions or stress on the engine, this oil can keep up peak performance for a length period, which makes it a great option, even if the price is disregarded.
Best Synthetic Oils for Motorcycles and ATVs
The first and only Motul oil on our list, this product delivers on the promises of improved response, protection, and catalytic converter compatibility. It meets several industry standards and is tailored towards 4-stroke motorbikes, specifically those with catalytic converters. All in all, buyers noticed an improvement in many aspects of their motorcycle's performance.
Firstly, the technology behind the oil is designed to improve engine response and is generally recommended for people with bikes with catalytic converters. Smooth shifting, more responsive and quieter starts, and eliminated rattling are just a few of the benefits that users noticed when using this oil. In fact, the most widely-reported aspect of this oil is just how much smoother the motorcycle felt overall. Some buyers also found a fairly significant improvement in their fuel efficiency in the form of an uptick in miles per gallon. If you have a motorcycle with a catalytic converter, this oil is a great place to start looking.
Our premium selection in this relatively niche category is this Mobil 1 20W-50 oil. As the name suggests, this oil is quite viscous in both cold and warm temperatures in comparison to the synthetic oils on our list up to this point. One thing to note, however, is that this oil might not be fully synthetic (despite the name). If true, this could be a deliberate choice, as conventional oil is more versatile among different types of vehicles, including motorcycles, ATVs, or farm equipment.
In terms of performance, there seem to be no real issues. Its longevity and value for money are par for the course for premium Mobil 1 products. Generally, buyers instantly noticed the improvement in their engine, both in performance and noise. In addition, some users noted a reduction in any pre-existing issues, such as leaks or "tapping". A few also mentioned that their engine ran significantly cooler than with their previous oil. All in all, despite the potentially misleading marketing, this is close to perfect for motorcycles and ATVs.
If you're familiar with motorcycle oil, you might find the name "GN4" familiar. It was introduced by Honda back in 1975, and played a role in setting industry standards for motorbike oil. Of course, the GN4 of today is vastly improved and tweaked to meet the requirements of modern ATVs and motorcycles, and the efficacy of this oil has remained fairly consistent. For anyone with a Honda motorcycle, this product is effectively an OEM option and is worth a look.
Due to the rising demands of stress-resistant and stable oils with today's motorcycles and ATVs, the GN4 is designed to be very shear resistant, stable in viscosity, and cleanly in high-pressure conditions. While the presentation and price might not give the impression of top-of-the-line oil, there is a reason this is recommended by Honda engineers. There isn't really anything to knock this oil for; its longevity and effectiveness are top-notch despite the price.
Types of The Best Motor Oils
There are some fine differences in the different synthetic oils on the market, and it's good to familiarize yourself with their respective characteristics. The most notable differences, of course, can be found between the trio of conventional, synthetic blend, and fully synthetic oils.
Conventional Oil
The first and perhaps easiest oil to manufacture, conventional oil is made through traditional methods of oil drilling. It is derived directly from crude oil, and doesn't require any added stimulation as it is already liquid at room temperature. This is contrasted by many synthetic oils, which require certain additives to remain liquid and maintain viscosity. There are a few types of conventional oils, contingent on a couple of factors: sulfur content and density. Lightly-processed oil will typically have a higher sulfur content (described as "sour"), while oil density can vary. It is notably easier to refine "lighter" oil, but the applications vary. In either case, conventional oil is made through natural methods, making it cheaper and easier to extract and process. On the other hand, this could have a greater impact on the environment and conventional oil often doesn't perform to the standards of synthetic counterparts.
Fully Synthetic
Fully synthetic oil, as the name would suggest, is made entirely in a lab out of raw materials or modified petroleum. Synthetic oil has the edge over conventional oil when it comes to limiting impurities and tailoring a product to enhance certain aspects. Essentially, it gives manufacturers some more freedom in terms of developing specific properties, such as effective anti-wear additives. Because it is not derived (in any capacity) from crude oil, synthetic oil doesn't have any of the disadvantages of conventional oil in performance or protection.
Synthetic Blend
Some oils are marketed as synthetic, when in reality they are conventional oils enhanced with certain synthetic properties. It is typically easier and more affordable to manufacture conventional oil and add the desired additives to enhance, for example, the oil's anti-wear capability. However, synthetic blends are usually not as effective or durable as fully synthetic alternatives, but they are still better than conventional for the most part. If you're looking for the best protection and performance available, pay close attention to the type of oil a certain product is. Oftentimes, a synthetic blend marketed as a premium, fully synthetic oil can be misleading in comparative performance and cost.
Major Brands of The Best Motor Oils
There are several "big players" in the world of synthetic oils, and you can see some of their products in our lists above. Mobil 1 is perhaps the most recognizable brand, but there are other solid brands like Valvoline, as evidenced by their presence on our lists.
Mobil 1. Mobil 1 has been a key player in motor oil and lubricants since the 1970s, and played a significant role in popularizing the use of synthetic oil. As they grew and refined their craft, their overall product line expanded to include things like premium oil filters, most of which are designed for use with their synthetic oils. Today, their synthetic oil is the official recommendation of several vehicle manufacturers – the list includes Toyota, Porsche, and Lexus. Mobil 1's focus on quality and thoroughness in their synthetic products makes them a respected manufacturer.
Royal Purple. An emerging competitor, Royal Purple has a similar focus on producing quality oil since its establishment in 1986. Interestingly enough, the idea for the company's name came from a customer telling the founder, John Williams, that he had never seen purple oil. They are perhaps most respected for their high-performance products, such as the 51530 5W30 on our list. They aim to make high-end, specialized oils with specially-tailored qualities; whether it's high performance in diesel engines or comprehensive protection, Royal Purple uses their own additives to make their synthetic oils.
Valvoline. Another common name above, Valvoline is one of the oldest automotive-related companies today. It was founded in 1866 by the inventor of a petroleum lubricant for steam engines, Dr. John Ellis. In its early days, the company was associated with race cars and was later the recommended motor oil of the Ford Model T, often hailed as the first widely affordable car. Their fully synthetic oils today are well-received due to their premium approach to synthetic oils across the board, as well as their overall outreach.
Castrol

. A British company, Castrol was founded in 1899, and has been a strong competitor in synthetic motor oils in recent decades. The brand name refers to castor oil (a vegetable oil pressed from castor beans), something their researchers began adding to their lubricants. Like a few other motor oil brands, Castrol has a large presence in racing, most notably in Formula 1. Overall, the company prides itself on its durable and powerful oil, as the historic slogan "Castrol-Liquid Engineering" suggests. Castrol offers a wide variety of oils, from conventional to fully synthetic.

Shell

. One of the largest companies in the world, Shell is primarily known for its stature in the oil and gas industry. It was formed in 1907 when two competing companies merged, and has grown exponentially since; with a hand in oil production, refining, distribution, and even renewable energy, it's no surprise that Shell is a large player in motor oils as well. The most recognizable of their oils is under the Rotella line, which contains a range of products from single grade conventional oil to multigrade synthetic oil.
Best Synthetic Oil Buyer's Guide and Tips
When looking for the right motor oil for your engine, there are a few things to keep in mind. Generally, if your budget isn't much of an issue, you can narrow down your choices to the best synthetic oils on the market, as they typically come with a range of benefits over other choices. Don't forget, that you need to have a new oil filter with every oil change.
Main Characteristics of The Engine Oil
There are several factors to consider when looking into synthetic oils, and some of them have to do with your engine. For example, if you have a diesel engine, you will of course want to look for synthetic oils optimized for that. The first thing to consider is what kind of vehicle you have to narrow your search accordingly, whether in engine type, racked mileage, or the level of peak performance.
A key consideration is the viscosity grade of an oil. If you're driving around hotter areas, a higher viscosity grade (for example, 10W-40), would be a good start. For milder or fairly cold conditions, a 5W-30 is a good balance. You probably won't need to go any lower (to 5W-20 or 0W-20) unless you're in an extremely cold climate.
Once you've taken note of some of your engine's specifications and an optimal viscosity, you should have a clearer picture of the best synthetic oil for your car. If your car is old and has a fair amount of miles, you might want to look for high-mileage synthetic oils with enhanced cleaning properties. On the other hand, if you have a newer high-end car, a high-performance oil would be more appropriate. If you find that your motor oil gets gunked up faster than expected, a long-lasting synthetic oil could bring you more consistent performance.
See also: The 3 Best Engine Air Filters
Consider which additives you might find to be a necessity based on your needs or limitations. For example, if it gets fairly hot in your region, perhaps look into oils with additives that help keep viscosity consistent. All in all, the characteristics you should be looking for depend on your engine, vehicle, and sometimes other parts (like oil filter). Familiarize yourself with any driver's manual recommendations, however; some vintage engines, for example, were designed exclusively for conventional oils.
Benefits of Synthetic Oil
Synthetic oil, whether a blend or otherwise, has several advantages over conventional oil. Top-of-the-line synthetic oils, while often varying in their best qualities, are generally better when it comes to keeping your engine healthy and clean, improving efficiency, and offering performance in tougher conditions.
Engine Health — the various additives in synthetic oils are often tailored for specific applications, but the formulation of synthetic oil allows it to more effectively prevent and remove deposits. In addition, some additives protect other parts of your engine, such as the seal. Overall, synthetic oil has the upper hand in cleaning and maintaining your engine.
Efficiency — top-shelf synthetic oil does wonders for reducing friction between components in your engine, which leads to a more fuel-efficient process. Essentially, quality synthetic oil can save you money on fuel.
Better weather performance — synthetic oils, including many on this list, offer great cold-weather performance by keeping a more stable viscosity regardless of temperature. This property also benefits start time and efficiency in the cold. On the other hand, synthetic oil can maintains your car's top performance in hotter weather as well.
Stable performance — premium synthetic choices, specifically high-performance oils, are often cited as giving your ride a much smoother feel. Whether it's an improvement in responsiveness, faster start times, or more torque, synthetic oil keeps new engines running at their peak, while getting the most out of older vehicles.
Longer lifespan — typically, conventional oil cannot compete with the longevity of synthetic oils. While it is a bigger investment to go synthetic, it pays off with the increased lifetime and thus, longer oil change intervals. In some cases, synthetic oil can maintain its performance for over 10,000 miles, while conventional will often need a change between 2,000 and 3,000 miles.
Related post: Fuel System Cleaners for best performance of the car
We do an efforts to find, research and recommend the best products. So, we may receive commissions from purchases that you make after following the links in our product reviews.