As David Beren told for LifeWire tech journal "In this modern-day cell phones are illegal to use while driving, but they could offer helpful functions like GPS", whether you're constantly using your GPS on the road or want a convenient space for your phone, a car phone mount can vastly improve your driving experience. From material to color to design, it can be a bit of a headache choosing the right fit for your phone and dashboard. Let's take a look at some of the best (followed by the opinion of experts and customers) the market has to offer.
Technical Terms
Before we delve into the products themselves, it's important to get to know with what you need to be looking for and what the different technical phrases might entail. Luckily, there isn't much to it; all you really need to know are your phone's dimensions and/or brand. Sometimes, you won't even need to know that much (well, you should still know what phone you own).
The size question is pretty straightforward; typically, a product's page will list the inside dimensions and/or the types of phones it is designed for. Oftentimes, you'll see that a phone mount can be adjusted in length to fit around wider phones (or even small tablets). Other times, phone mounts can have a "quick release" and "clamp" option, wherein it loosens and tightens the grip on your phone for easy access and secure fit.
When researching your next phone mount, it's necessary to determine:
Do you want a magnetic device or not?
Is there a charger with the mount you looking for?
Which range of mounts is given with your pick?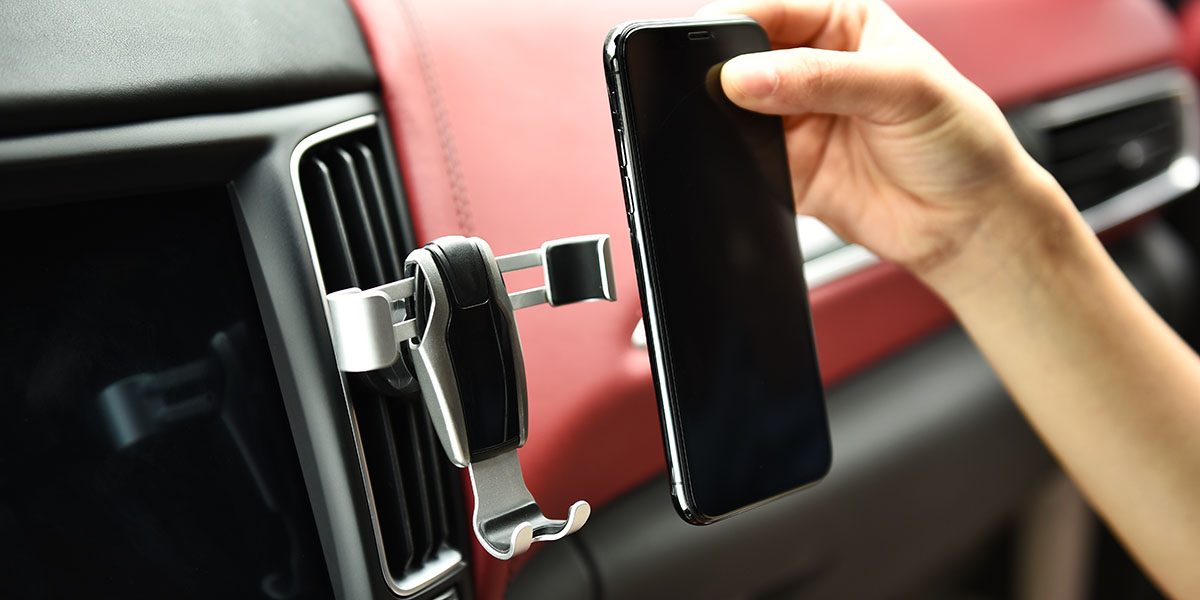 Most often, a phone mount is designed to be clamped to an air vent; this is often the most convenient spot in terms of eyeline and reachability, and is very easy to do. However, one downside to certain phone mounts is the limited weight they can carry. If your phone is about the same size as one listed on the product page but is considerably heavier, there's a chance it won't stay on comfortably. In these cases, make sure to find out either through reviews or product descriptions whether your phone might fit (even if dimensions seem to match).
Other common types of car phone holders are dashboard and windshield mounts. These are typically small arms that extend from a smooth, flat surface in your car and are secured via suction cups (in some cases, adhesive patches). There are also magnetic mounts, which hold your phone by attracting a metal plate that you attach to it.
Short Overview
Now that we got that out of the way, let's take a closer look. The 7 different car phone mounts on our list are quite diverse, something you might not expect initially. They can vary in how they secure your phone in place to where and how they are attached. Below is a quick overview of the different characteristics in a small table.
The Best Car Phone Mounts Review
Beam Electronics comes in with a superb product that is worthy of representing the car phone mount name. With a huge volume of satisfied customers and even an Amazon's Choice label, this mount is bound to satisfy the vast majority of buyers.
We've found it as Convenient and Versatile
The mount's design allows it to hold close to any phone out there. The cradle is large enough to hold the heavier smartphones out there (such as the newer iPhone 13), and the arms can be adjusted for widths between about 2 inches to nearly 4. To put that into perspective, our iPhone 13 example is just 3.0 inches wide. In addition, the mount boasts a button for quick release. To top this off, it can be rotated a full 360° to give you the viewing experience you're looking for. The hold range and rotational ability should tell you that it's compatible with GPS devices, so long as they're not too heavy or thick. Otherwise, you can be sure that your smartphone or other handheld device can rest snug and secure in the arms of this mount. The only downside, it seems, is that it's not sturdy enough to hold heavier devices over time; if you have a very large phone (again, like the iPhone 13) over 173 grams in weight, you might have to prop it up somehow to keep its longevity intact.
The iOttie model is certainly similar in appearance to the Beam Electronics mount, with one striking difference; it can be secured in any way – not only on your air vents. Like its competitor, it is also a very versatile product.
We've found it as Versatile in Function
If there's one word to describe this mount, it's versatility. In total, it comes in three different styles: Air Vent, CD Slot, Dashboard/Windshield. As you might guess, the names describe how the product is installed; whether you want to insert it into your CD slot, clip it onto an air vent, or suction it onto virtually any solid surface in your car (so long as it doesn't obstruct your vision), this mount can meet your needs. Depending on the style you go for, it can be very compact or quite sizeable. Specifically, the air vent mount is quite light and portable, while the suction-based version can take up magnitudes more space. However, it does offer a more secure and reliable mount, so long as you have a place in mind for it. All in all, this mount is quite solid, and the fact that it comes in different styles is bound to attract some interest. However, there is one (possibly major) downside to it; for the Dashboard/Windshield model, extended exposure to the sun might damage the suction cup, so keep that in mind.
If you're looking for something a bit more flashy, the WizGear air vent mount boasts a magnetic pull that can hold any smartphone through any road conditions. There are several questions might already be on your mind: can it really hold any smartphone (or mini tablet), and does the magnet have any adverse effects on your devices?
We've found it like Convenient and Affordable
This product works not by attracting the phone itself, but rather a metal plate – three of which come with the mount. After attaching the metal plate to your phone (or putting it in your case), all you need to do is place your phone onto the mount, and you're done. Despite the simplicity, this mount actually allows you to rotate your phone as well; the air vent clamp stays put while the magnetic part can rotate any way you want. On top of all of this, it won't break the bank as much as a few of our other picks. The downside, however, is that the clamps are reportedly quite weak; they don't adequately stay on all types of vents, so unless you have the ideal spot for the mount, it might be an issue.
The great thing about the Vansky phone holder is that it comes with 3 different options for mounting: air vent, dashboard, and windshield. Essentially, it is a 3-in-1 product that competes with the more affordable models in price; as such, it sacrifices durability for versatility.
Use it in every car you want!
This mount is perfect for anyone that isn't completely sure what kind of holder they would like. Many buyers get (for example) an air vent mount, and after using it, realize that it isn't as compatible with their interior as they hoped. The Vansky eliminates that problem by adding variety into the mix, with two suction cup-based versions and a traditional air vent clamp. This also combats another issue; the air vent model, for example, can't support the much heavier smartphones on the market, while the dashboard arm can. Unfortunately (and perhaps expectedly), this product lacks in longevity and durability. There were numerous buyers were happy with their purchase and came back a few months later to voice that it no longer supported their phone's weight, often due to wear and tear. Regardless, it is still a solid purchase due to it's all-in-one design..
The VICSEED mount is possibly the slickest looking choice on our list – the holder is ergonomically designed to cradle your phone from all sides. Despite the intricate design, it is one of the more universal choices as well.
We've found it as an "All-Round Beauty" pick!
This product offers a very convenient and appealing way to use your phone in the car. It has all the key features, from rotation to security-focused design. The makers are so confident in this product's durability that they offer a 30-day refund and 12-month warranty. The mount is also adjustable in width thanks to its spring-loaded "squeezing" arms that truly secure your phone. Despite the durability, it is quite lightweight due to its quality materials and efficient construction.
One downside, however, is that it isn't as universal as it may seem. Firstly, it can only clip onto more conventional horizontal and vertical vents. Secondly, it's not compatible with thicker cases (like Otter). If these aren't an issue for you, then this mount will no doubt be a fantastic choice.
The Lamicall product, at first glance, looks like it's missing a few parts. Its design is nothing short of concise and simple. Despite not looking like much, it's actually one of the most well-received mounts on the market, and has an Amazon's Choice sticker to go with it.
We've found it as Simple Yet Effective!
The Lamicall is designed to be lightweight and easy to use; it can't break if there's nothing to be broken. One design aspect that stands out is the dual mounting clips. It's surprising that no other product on this list has this feature, as it adds considerable stability and security to the holder and vents themselves. It's easy to use, easy to install, sturdy, and offers full rotation for any angle you might want. The clips and arms are engineered to maximize padding and minimize slip. If you're uncertain about this product, Lamicall offers you a full refund of replacement if you happen to not like it. In terms of simplicity and effectiveness, this phone mount is hard to beat.
Our final entry is another magnetic mount, and a very lightweight one at that. One bonus regarding this model is its versatility; that is to say, you can get this mount in many different forms, from a stick-on dash holder to a typical air vent clip.
We've found it as Lightest of the Bunch!
The most striking thing about this mount is just how lightweight it is. Of course, it depends on which type of mount you get, but the adhesive dash mount version is certainly a small accessory. It's quite adequate across the board; "strong enough" describes many aspects of this product. The adhesive/suction/clip strength is decent, and the materials aren't too cheap either. Many were pleasantly surprised at the overall effectiveness of this product and the strength of the magnet. The only caveat is that very high temperatures could eat away at the suction cup/adhesive (if you choose one of those options).
Conclusion – Buyer's Guide
There you have it – seven fantastic choices to make using your phone more convenient than ever. There's a little something for everyone in this list, with a wide range of options when it comes to mounting style.
If you're more attracted to the magnetic options, there's three on this list to consider. However, the choice here isn't so straightforward. All two of WizGear and SCOSCHE have fantastic products that aren't too far apart. It's essentially down to personal preference and availability; they all have their minor differences and strengths, but overall there isn't a clear winner.
For regular air vent mounts, the Beam Electronics universal holder takes the prize. It's convenient, versatile, and does everything well across the board. Honorable mentions go to Lamicall and VICSEED for offering quality alternatives as well; the Lamicall has a minimalistic aspect to it, while the other two simply perform and hold up very well over time.
Finally, for alternative options (such as dashboard mounts), you could consider the Vansky mounts. They are well-designed for a specific style (including CD slot insertion), and are overall great options. Finally, if you're just looking to play around with different places to have your phone, the Vansky 3-in-1 gives you several options to consider in an affordable package.
It really depends on what type of case you have and what your mount allows. For example, the VICSEED model we looked at isn't very compatible with thicker cases due to its limitations. Generally speaking, thinner cases will be compatible with most holders. It's best to make sure that the phone mount you're considering can accommodate, especially if you have a bulkier case.
We live in times where even the simplest accessories have unique and useful features. These can range from wireless charging support to a simple quick-release button, including the features we mentioned such as rotational ability. It's always a good idea to read through a product's description to get an idea for what it can do.
Universal phone mounts (such as the ones in the list) are designed to be able to fit a wide range of smartphones in use today. This means that they are either universally applicable (such as magnetic mounts) or can be tinkered to fit a specific size. It's unlikely that an iPhone X-specific mount will have any major benefits over a regular mount that can hold an iPhone X.
We do an efforts to find, research and recommend the best products. So, we may receive commissions from purchases that you make after following the links in our product reviews.